VI. ZLATNA IGLA (GOLDEN NEEDLE) 2004
The ceremony of the annual nominations of the Academy for Fashion - Zlatna Igla (Golden Needle) 2004 took place for eleventh time. The gala evening of the event and the awarding took place at Sheraton hotel on March 22 and proved that the interest to the Bulgarian fashion and the designers in this area is still there and is growing every year. The jury consisting of 34 fashion journalists from the leading print and electronic media in the country had really problems in deciding who would "sew" with the Golden Needle this year. The competition was challenging
and the participants in the ceremony made a real show presenting their designs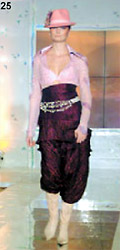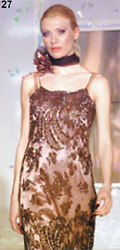 and collections. The designer of Roshavata Garga (Tousled Crow) fashbrown ion house, Albena Alexandrova won the prestigious award in the "Designer of the Year" category (in the name of truth we should note that she had the same number of votes with Jana Jekova after the first voting so there was a second round of voting for the two nominated designers and Albena Alexandrova was given more votes by the journalists). Zlatna Igla for Best Fashion House of the
year was awarded to Zebra. Alexander Nishkov was honored in the category
Fashion Photograph. Julia Angelova was awarded the Zlatna Igla (Golden Needle) for best fashion make-up artist. The designers Evgenia Zhivkova, Jana Jekova, Milka Alexandrova - Buchi and Fanni Papadopulu, fashion houses Galinel, Enita, MirO, and Parushev, the photographers Danail Shterbanov and Studio MEM as well as the make-up artists Antonella Molaliiska and Svetla Damova, who were among the nominated for the awards, participated very successfully at the ceremony.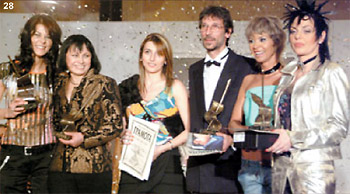 Zlatna Igla for overall contribution to the development of the Bulgarian fashion was awarded to the designer Maria Nedkova who already had the prize in the category Designer of the Year for 1995. The designer Maria Manchenko presented the special collection Nokia, inspired by the particular elegance in the style of the 1950s and 1960s and the clear line, embodying the business woman whose choice is the smart phone Nokia 9300. Official guest at the Zlatna Igla Award 2004 ceremony were the Paco Rabanne glasses and the first Bulgarian brand of glasses Kwiat+. The most recent trends in the sunglasses for 2005 were presented and they reminded in a charming way to those present at the ceremony that spring and summer are near. The designs emanate luxury, elegance and natural identity. The VIP guests, designers, fashion houses, models and participants in the show transferred their festive spring mood to the Spring Ball of the Bulgarian Fashion, organized jointly by Academy for Fashion and Bulgarian Fashion Forum. It happened right after the official ceremony of the awarding. Presenters of the ceremony were the charming Visage top model Iren Onteva and Robin Kafaliev, the host of the Funniest Animals and People on the Planet show on BTV. The splendid show of the Academy for Fashion and the awarding ceremony were attended by many guests, among which were the Parliament members Vessela Draganova, Irina Bokova, Irena Varadinova, Antonia Parvanova, the editor-in-chief editor of Troud daily, Tosho Toshev, Milena Milotinova, celebrity Julia Bull, Baron Gendovich and his wife, Hristo Kourtev and many others.