GOLDEN
NEEDLES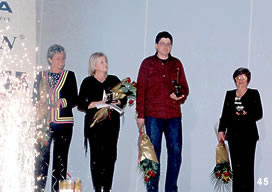 The Academy of Fashion awarded the extremely prestigious annual award Zlatna Igla (Golden Needle) 2002 for the ninth time in a row. The ceremony and the gala evening at the Central Military Club were opened by Donka Ganeva, Chairwoman of the Academy of Fashion. Mariana Vekilska from bTV and actor Simeon Vladov were presenters of the show. In a very hard competition, which posed quite a lot of difficulties to the 33-member jury of journalists, the winners were Maria Micheva in Designer of the Year category, Galinel in the Fashion House of the Year category, Encho Naydenov in Fashion Photographer of the Year category and Rila Style - for Contribution to The Bulgarian Fashion.
Maria Micheva presented a very spectacular collection, into which traditional ethnos was mixed with postmodernism. Combining various religious symbols and emblematic portraits of popular individuals, the designer showed a very strong reflex to the novelties in the socium, culture and modern taste. The award was presented to her by Mr. Nacho Pishtovkolev, President of Nokia Bulgaria (general sponsor of Zlatna Igla (Golden Needle) ceremony and by the last- year -winner Albena Alexandrova.
The winner in the category Fashion House of the Year - the high-profile fashion house from Plovdiv Galinel, whose designer is Galina Dencheva and face - Dessislava Dencheva, presented an extremely luxurious collection, made of high quality natural fabrics and decorated with hand-encrusted mountain crystals and rare mother-of-pearl.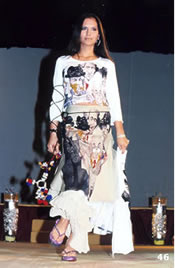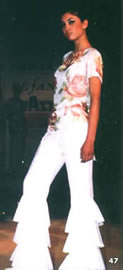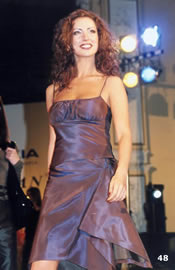 The distinctions of Rila Style, Galinel and Encho Naydenov were presented by Mr. Miroslav Pechev, president of Sofstock - exclusive representative of Lavazza coffee in Bulgaria, together with Stefan Popov, owner of Refan, the first deputy editor-in-chief of Vsichko za zhenata (Everything for Women) newspaper Maria Netsova, as well as last-year winners Temelko Temelkov, Darina Manchenko and Tanya Ivanova. The presence of the other Zlatna Igla (Golden Needle) 2002 nominees: Ani Avramova, Zhana Zhekova, Zheni Zhivkova and Fani Papadopulu; Silverday, A-Style and Nia i Dorado; MEM Photo Studio and Moni Frances was also very strong. The nominee's works showed that the Bulgarian fashion is really developing and that the fashion journalists in our country keep an eye on it and stimulate it with their greatest prize.